What is a MediSpa?
Our Medi Spa is an establishment that fuses medical beauty enhancements and traditional spa treatments under the supervision of a highly trained and specialized doctor, such as a plastic surgeon.
The goal of a MediSpa is to help patients achieve their aesthetic aspirations and ultimate wellness through customized medical and holistic packages. A MediSpa can treat conditions on the face and body (such as brown spots, redness, fine lines, wrinkles, and broken capillaries) that can't be treated as effectively at a traditional day spa.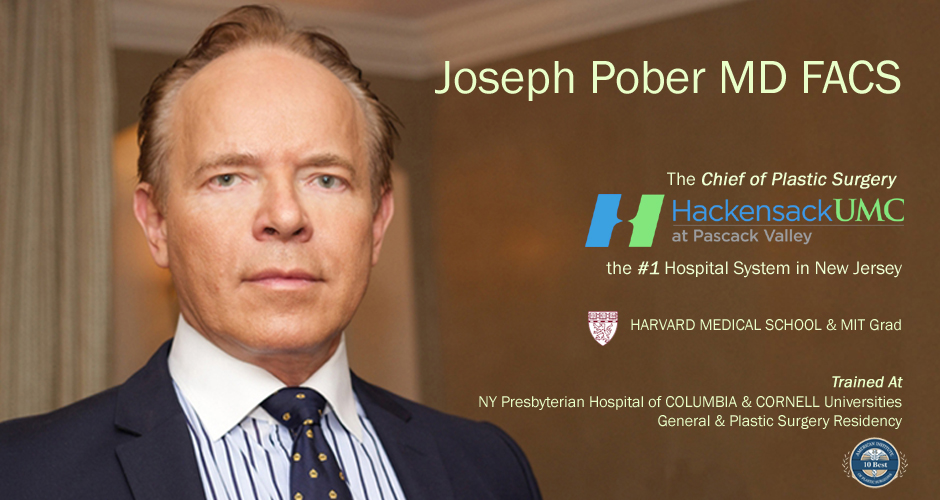 Who is Doctor Pober?
"Dr. Pober has undergone some of the best training and education the industry has to offer," Says Mirabella Magazine. "He has a renowned artistic ability and understanding of the human body and his ability to combine knowledge with skill remains unmatched. Achieving results coveted by his patients while remaining warm, caring, and truly attentive is what sets Dr. Pober apart from other doctors. He is, by far, an extremely gifted surgeon and talented artist."
Joseph Michael Pober, MD, FACS, is a summa cum laude graduate of Columbia University and Harvard Medical School. At Harvard, he was chosen to simultaneously attend the Massachusetts Institute of Technology (MIT) Graduate School. He trained at the New York Presbyterian Hospital (of Columbia and Cornell Medical Centers) practicing both plastic surgery as well as general surgery. After becoming Chief Resident in Plastic Surgery at NYPH, Pober completed double fellowships. He subspecialized in cosmetic surgery with Dr. Thomas Rees at Manhattan Eye, Ear and Throat Hospital (of the NYU Institute of Plastic and Reconstructive Surgery) as well as facial sculpting (or Cranio Maxillofacial surgery) with Dr. S. Anthony Wolfe at the University of Miami.
Specializing in cosmetic surgical procedures for enhancements of the face, eyes, nose, chin, neck, lips and breast as well as body contouring (Liposculpture)
In addition to his private practice in aesthetics, he is on the clinical teaching faculty as an Associate Attending in plastic surgery at Hackensack University Medical Center (HUMC) and also at St. Luke's – Roosevelt Hospitals, Columbia University College of Physicians and Surgeons.
Currently, Dr. Pober is studying the induction of new bone growth with researchers in Europe and pioneering advances for instant benefits employing natural injectables. These are the least invasive and more natural approaches to instantly enhancing features such as the chin, jawline, and malar regions with minimal to no down time. This work is destined to replace facial implants.
---
INJECTABLES
Botox and Xeomin - $500 per Area
Simple, non-surgical cosmetic procedures that smooth lines or wrinkles by temporarily relaxing the muscles. Effects are usually seen within 3 days and maximum benefits appear around week 2. These procedures are also used to treat migraines and excessive perspiration.
*Purchase 2 areas, get the 3rd free
**First time patients receive their first area for $300 and first filler for $500
Restylane - $750 per syringe
Restylane is a natural way to restore volume and fullness to flaccid, wrinkled skin (such as crow's feet around the eyes) by utilizing Hyaluronic Acid (HA)
Juvederm - $750 per syringe
Juvederm is a safe and effective dermal filler that replaces the HA your skin has lost, smoothing away facial wrinkles and folds, as well as providing soft tissue filling (lip plumping).
Belotero Balance - $750 per syringe
BELOTERO BALANCE (R) is used to temporarily smooth out and fill in moderate-to-severe wrinkles, nasolabial folds (the folds or wrinkles that go from the side of the nose to the corner of the mouth), and to fill and define lips.
Radiesse - $750 per syringe
Stimulates the body's own natural collagen production. Instantly restores facial volume to smooth out the signs of aging and natural, youthful results may last a year or more in many patients. Provides both soft (nasolabial crease) and hard tissue (cheek bone) enhancements.
TOPICALS
Hydroxy Acid Peel (for all skin types) - $160 per Session
A custom peel suited for first-time individuals that helps improve skin texture, tone and reduces pore visibility. Creates an even and controlled shedding of several layers to provide a desired, refreshing effect on overall appearance and health.
*Series of 3 sessions – $145 per session *Series of 6 sessions – $130 per session
TCA Peel Light Treatment - $650
A custom peel that is highly effective in promoting smoothness and vitality. Advantages include improving skin texture, tone, fine lines, wrinkles and superficial discoloration. May improve blotches and dark circles under the eyes.
TCA Peel Medium Treatment - $1,150
A custom peel that is highly effective in promoting smoothness and vitality. Advantages include improving skin texture, tone, fine lines, wrinkles and superficial discoloration. May improve blotches and dark circles under the eyes.
Microdermabrasion - $160 per session
A treatment that strips away dead skin cells to reveal fresh, soft skin. Stimulates healthy cells and reduces imperfections, improving overall radiance and health.
*Series of 3 sessions – $145 per session *Series of 6 sessions – $130 per session
---
LOCATION
144 East Ridgewood Avenue
Ridgewood, NJ
HOURS
(By Appointment)
Thursday: 1pm – 8pm
Friday: 12pm – 6pm
Saturday: 12pm – 4pm
---
Find him on the shelf:
Textbook of Plastic, Maxillofacial and Reconstructive Surgery, 2nd Edition (Discussing the latest cosmetic procedures for the face, neck and brow)
Ultimate Plastic Surgery Symposium (Discussing the most advanced techniques of facial and body sculpting)
Perspectives in Plastic Surgery (Discussing lipocontouring techniques for the face and body)
Community Outreach:
Member of the American Society of Plastic Surgery (ASPS)
Member of American Society of Aesthetic Plastic Surgery (ASAPS)
Fellow of the American College of Surgeons
Double-board certified by the American Board of Plastic Surgery + National Board of Medical Examiners
Named "New York's top Park Avenue Plastic Surgeon"
America's Top Surgeon (The Consumers Research Council of America 2002-2005)
America's Top Plastic Surgeon (The Consumers Research Council of America 2006-2015)